Kurt's Railroad Tycoon Fan Station - Celebrating Five Years!

Welcome to Kurt's Railroad Tycoon Fan Station. This site is for fans of the Railroad Tycoon PC Game Series, which includes
Sid Meier's Railroad Tycoon/Railroad Tycoon Deluxe (1990/1993), Railroad Tycoon II (1998), Railroad Tycoon 3 (2003), and Sid Meier's Railroads! (2006).
Looking to purchase one or more of these titles? Stop by the recently updated "Game Info" page for links to where you can download/purchase each title and specifications for each game.
Just bought Railroad Tycoon 3? Check out the "Tips" page for some tips on how to become a true railroad tycoon.
Interested in the complexities of any of the titles? Take a look at the "Reference" section to learn more about the inner mechanics of the economy, industry, and buildings systems.
Wondering what's new here at the station? Peruse on over to the "Newsstand" and read The Fan Station News!
Have any questions not answered by the information at the station? Visit the new Fan Station "Forum" to ask other Railroad Tycoon fans, or "Contact" me directly.
I hope you enjoy all the site has to offer! We are celebrating five years online this August!
Thank you very much to all who've stopped in from time to time and helped keep the Railroad Tycoon Series alive.
Kurt
Also! If you haven't already, check out the new "Trainmaster" section of the site.
Bringing new life to RT3, Trainmaster updates the game and provides a whole new experience. Try it out!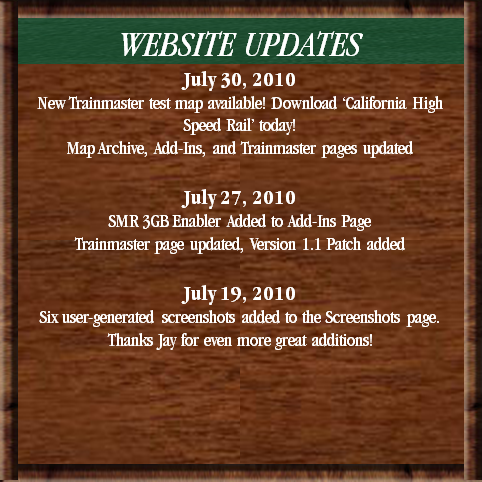 Some portions of this website were created using PopTop Software's Railroad Tycoon 3 Fan Site Pack and were assembled using Microsoft FrontPage 2000.
NOTE: Website best viewed in Mozilla Firefox or Google Chrome Web Browsers. If you use Microsoft Internet Explorer, you will have a horizontal page slide bar.
Last Updated: May 15, 2011
First Published: August 15, 2005
Copyright 2005 - 2011, Kurt's Railroad Tycoon Fan Station.
If you like this site, please visit our Host's Site: www.techtourguide.com/brianandmargi